There are two ways to build a photobook in Zno:
Use our photobook design tool, Zno Designer, on our website, zno.com, or via the Zno mobile app (only for selected products) to create your design. You do not need to pay a fee to use this design tool. It is available for free to all our customers.

After you complete your designs, click on Order to add it to your shopping cart and complete checkout. All orders must be submitted online using the Zno website or Zno mobile app. Orders will not be accepted over the phone or via email.

Use your own software such as Photoshop, Lightroom, Fundy, SmartAlbum, etc to design your layouts.

After you have designed your layouts, you can export them as high resolution .jpegs and upload them into our software.
Regardless of how you choose to design your photobook, please keep the following specifications in mind:
Please upload 300 ppi at the size ordered resolution images for best quality print. Our .psd specs are 300 resolution files. For example, if you would like to print an image as a 5x7, the pixels per square inch should be 1,500x2,100 (or 5 times 300 = 1,500 and 7 times 300 = 2,100).
Our software only accepts .jpg file format.
We only support the sRGB color space.
We recommend calibrating your monitor for accurate color. We can also provide our ICC printer profiles for soft proofing. You can find it available here.
We do not color adjust your images.
We do not adjust or correct the image resolution of your files.
We are not responsible for any issues that may come up such as low quality image files, Photoshop bleed layer left on, typos, cut off images, blank pages, etc.
All photobooks are printed as they are submitted.
Please read the following graph for more details about each of the different album design workflows: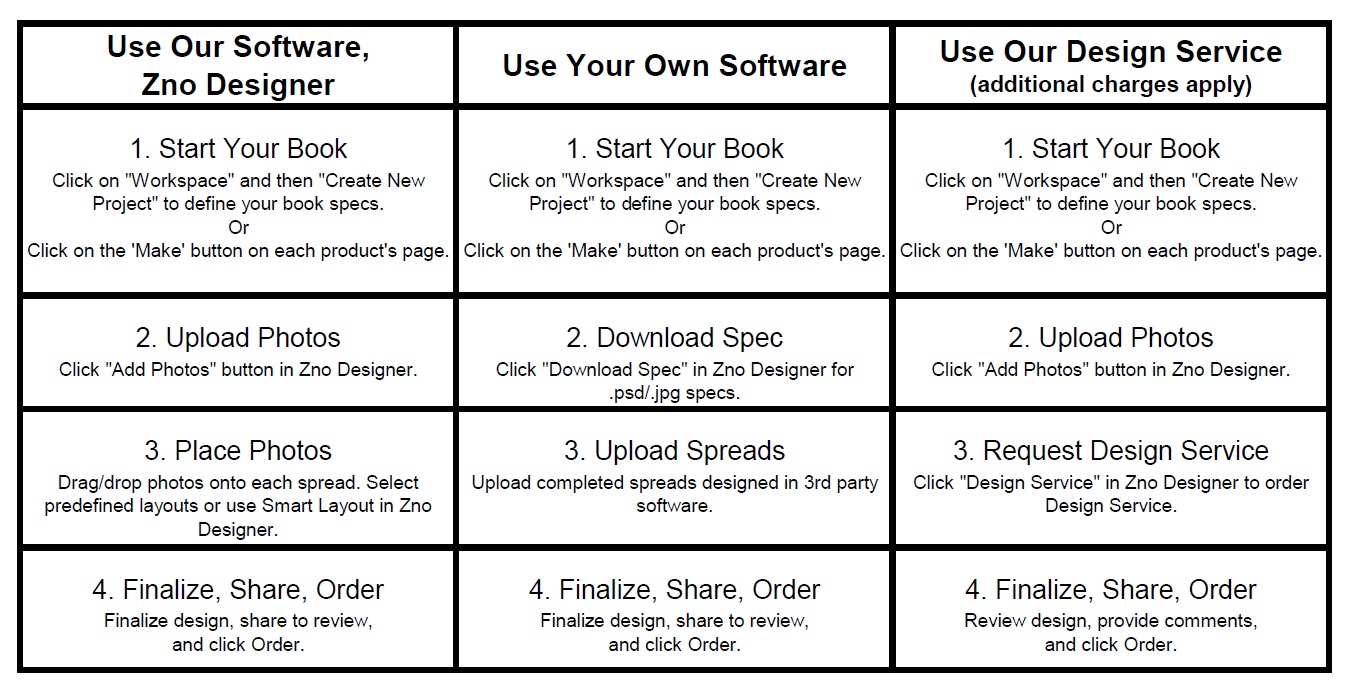 For more information, please email support@zno.com.