The Sample Swatch Album contains samples of all of our covers, paper types and page thickness options. This swatch album is brand free so you can use it to show your clients all options available for their photobook. 
The Sample Swatch Album (a $50 value) is only available to our Pro Plan members. Pro Plan members can order
one free Sample Swatch Album
as part of their Pro Plan membership*. Additional Sample Swatch Albums are available for purchase for $50.00 each.
Here are the steps to order your Sample Swatch Album:
1. Log into Zno and then click on My Stuff -> My Pro Plan. If you are not a Pro Plan member, you can sign up for the Pro Plan membership at this point.
2. On the
My Pro Plan
page, at the bottom row of the page, titled Sample Swatch Album,  you will see an Order Now button.
Pro Plan members who
sign up after Dec 12, 2016
will see an accompanying coupon code. Note the coupon code - this will be needed when you checkout to submit your order. See screenshot below.
Pro Plan members who
signed up before Dec 12, 2016
- please email support@zno.com to request your Pro Plan Sample Swatch Album coupon code.
3. Click the Order Now button. This will take you to the shopping cart page, with a Sample Swatch Album automatically added to your cart.
4. Complete checkout and be sure to select Standard Shipping. Enter the coupon code as listed on the My Pro Plan if you have one.
5. To order additional Sample Swatch Albums, simply click on the Order Now button on your My Pro Plan page to add it to your shopping cart.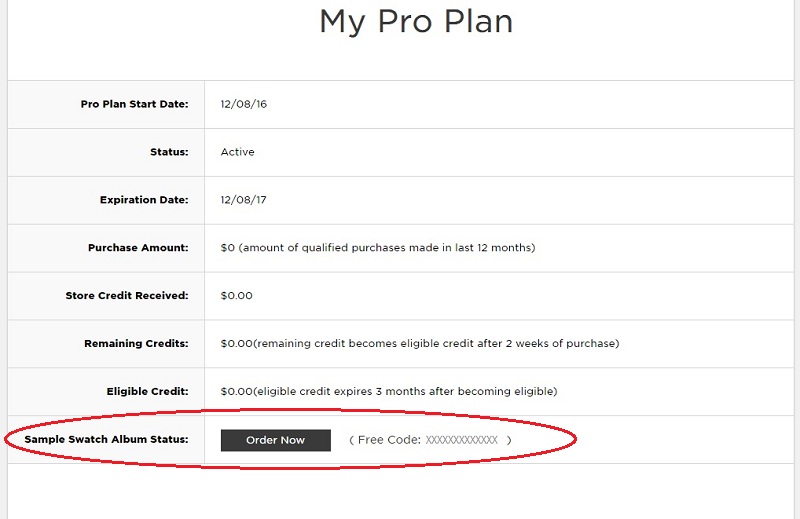 *Please note the $50 Pro Plan fee will NOT be refunded if you cancel your Pro Plan once this Free Sample Swatch Album has been redeemed.