On this page:
Why do I need to collect tax?
Creating a Tax Rate
How much tax do I need to collect?
Calculation of Taxes
Why do I need to collect tax?
With Zno Estore, the photographer is the selling entity for the order and is responsible for everything relating to sales tax and payments. Based on your local tax requirements, you may need to collect sales tax on items in your Zno Estore and then remit sales tax to your jurisdiction's tax authority. It is the photographer's responsibility to collect and remit all applicable sales tax that is necessary for their business.
Creating a Tax Rate
You always have control over the tax rates charged on your Zno Estore orders. For United States and Canada, you are allowed to enter tax rates on a Country and Sub-region level. For other countries, you are allowed to set up tax rates only on a Country level. Tax rates are then calculated based on the client's shipping address entered at checkout. To understand the setup, see below:
Step 1: Go to Workspace/Gallery/Estore/Taxes.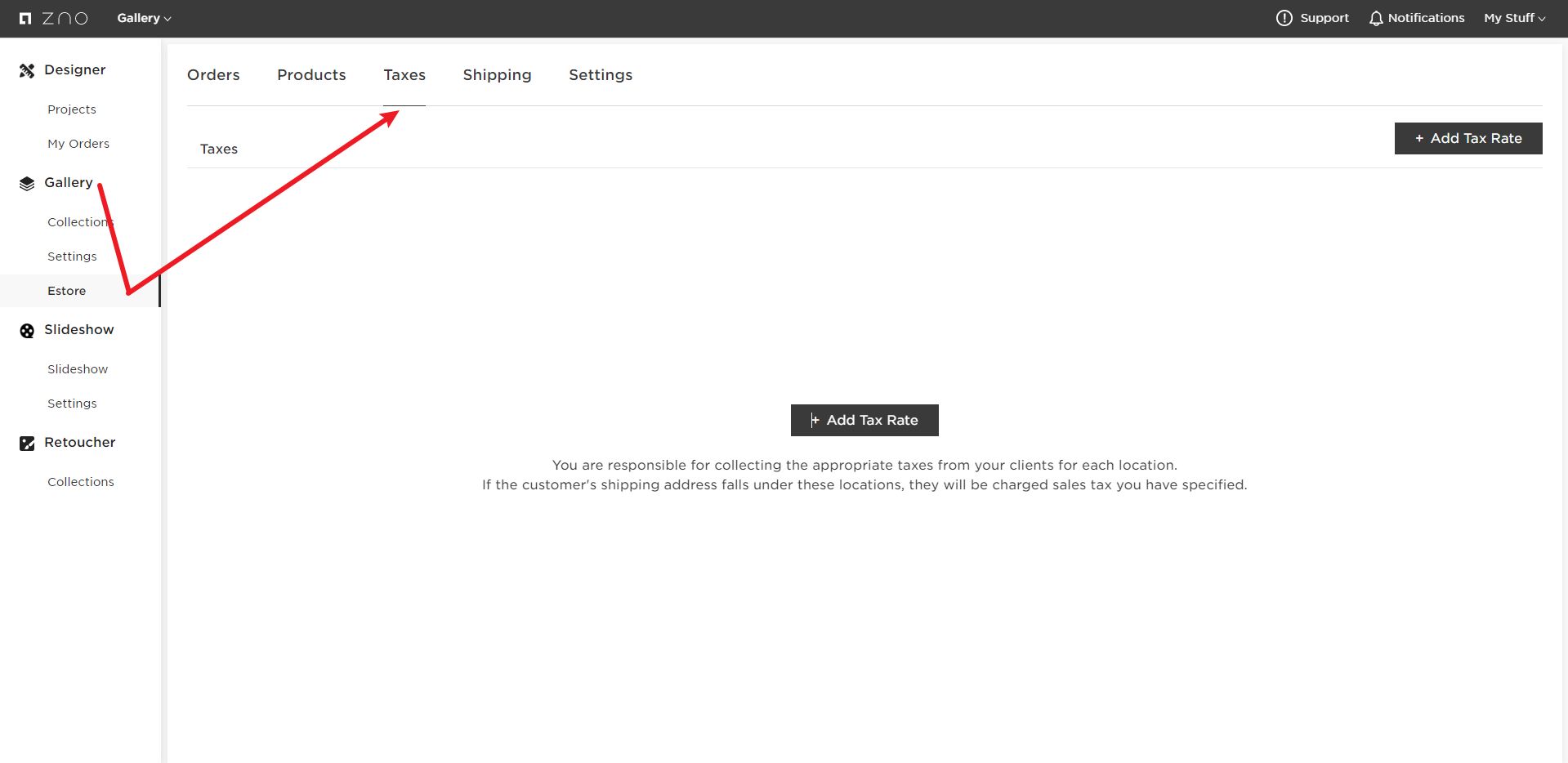 Step 2: Click "Add Tax Rate" and fill out the required fields.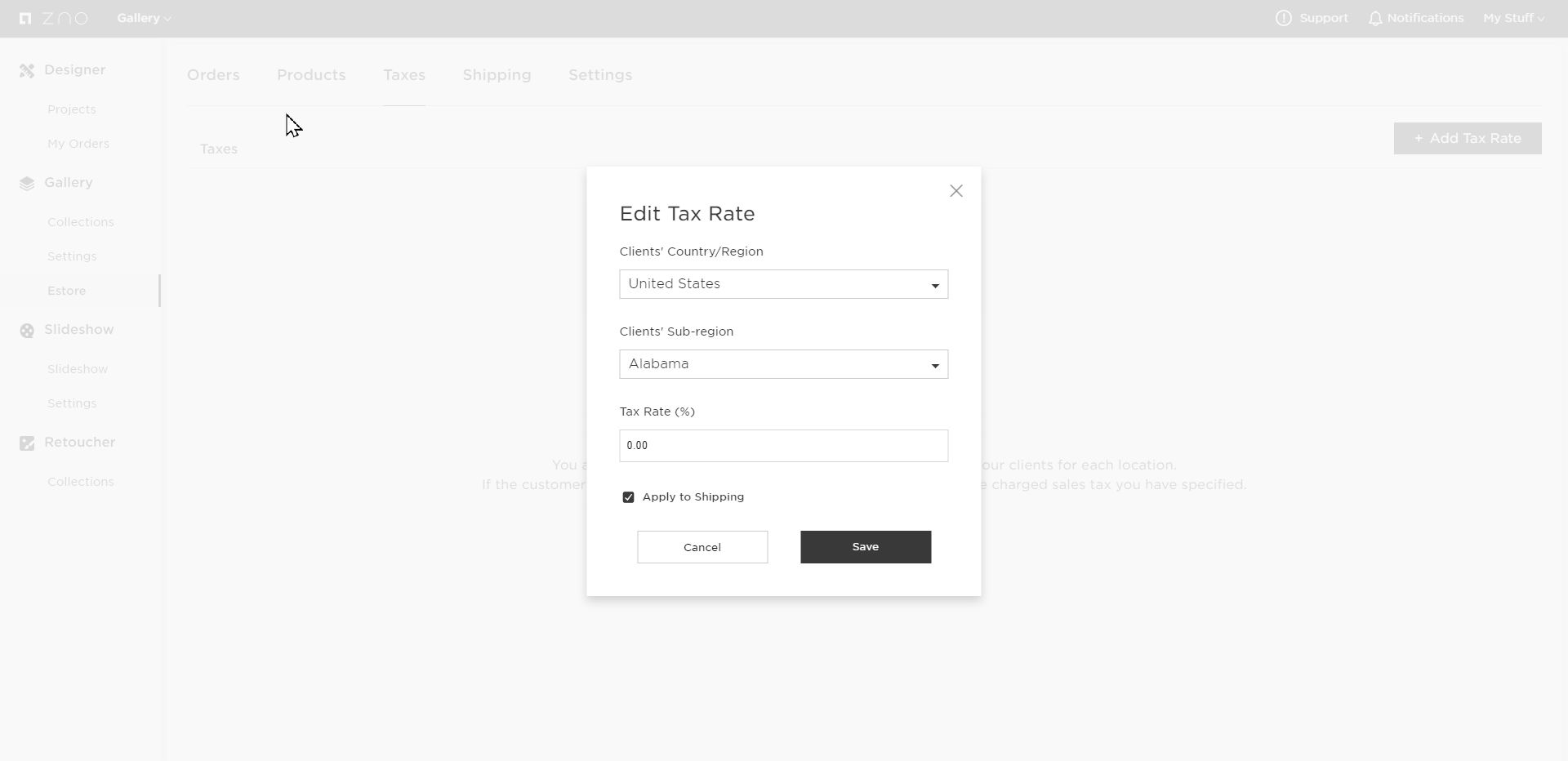 Clients' Country/Region and Clients' Sub-region:
Set up tax rates for each location that your clients are based in.
Tax Rate:
Set up appropriate tax rates based on your local tax requirements. For each location you are only allowed to set up a single tax rate. You cannot set up two different ones for the same location.
Apply to Shipping:
Check or uncheck to decide whether you want to the tax rates to be applied on the shipping fee.
Step 3: You can see all the tax rates you have set up below.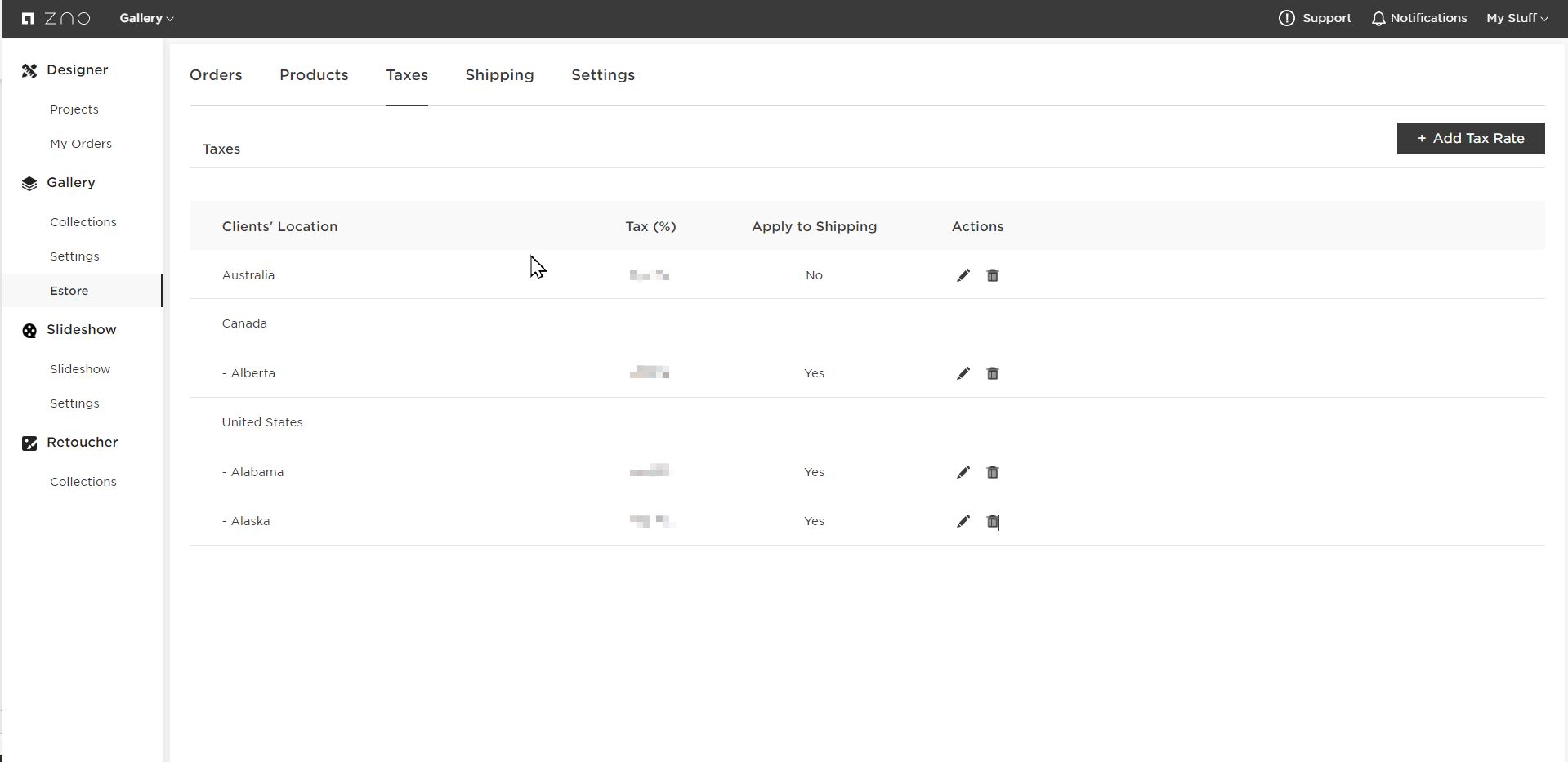 If the customer's shipping address falls under these locations, they will be charged sales tax you have specified.
How much tax do I need to collect?
Zno does not provide advice regarding laws applicable to your business. If you have questions about collecting taxes, please consult with a tax advisor.
Calculation of Taxes
You can sell any kind of software-supported products, whether it's automatic fulfillment products, self fulfillment products or digital download, the tax is calculated in the same way: the price of the product multiplied by the tax rate you've set up for that shipping location.
For more information, please email support@zno.com.