Please watch the tutorial video or see written instructions below for step by step instructions:
Setting up Price Sheets in Zno Estore
On this page:
What is a Price Sheet
Creating a Price Sheet
Managing and Pricing Products
Assigning Price Sheets to Galleries
What is a Price Sheet
The Price Sheets determine which products are available for sale in your store. You can think of price sheets as catalogs of products. You decide what products you want to sell and set your own markup for every product in the Price Sheets. Price sheets are then assigned to collections so that your clients can have access to your store through their galleries.
Creating a Price Sheet
Step 1: Go to Workspace/Gallery/Estore/Products.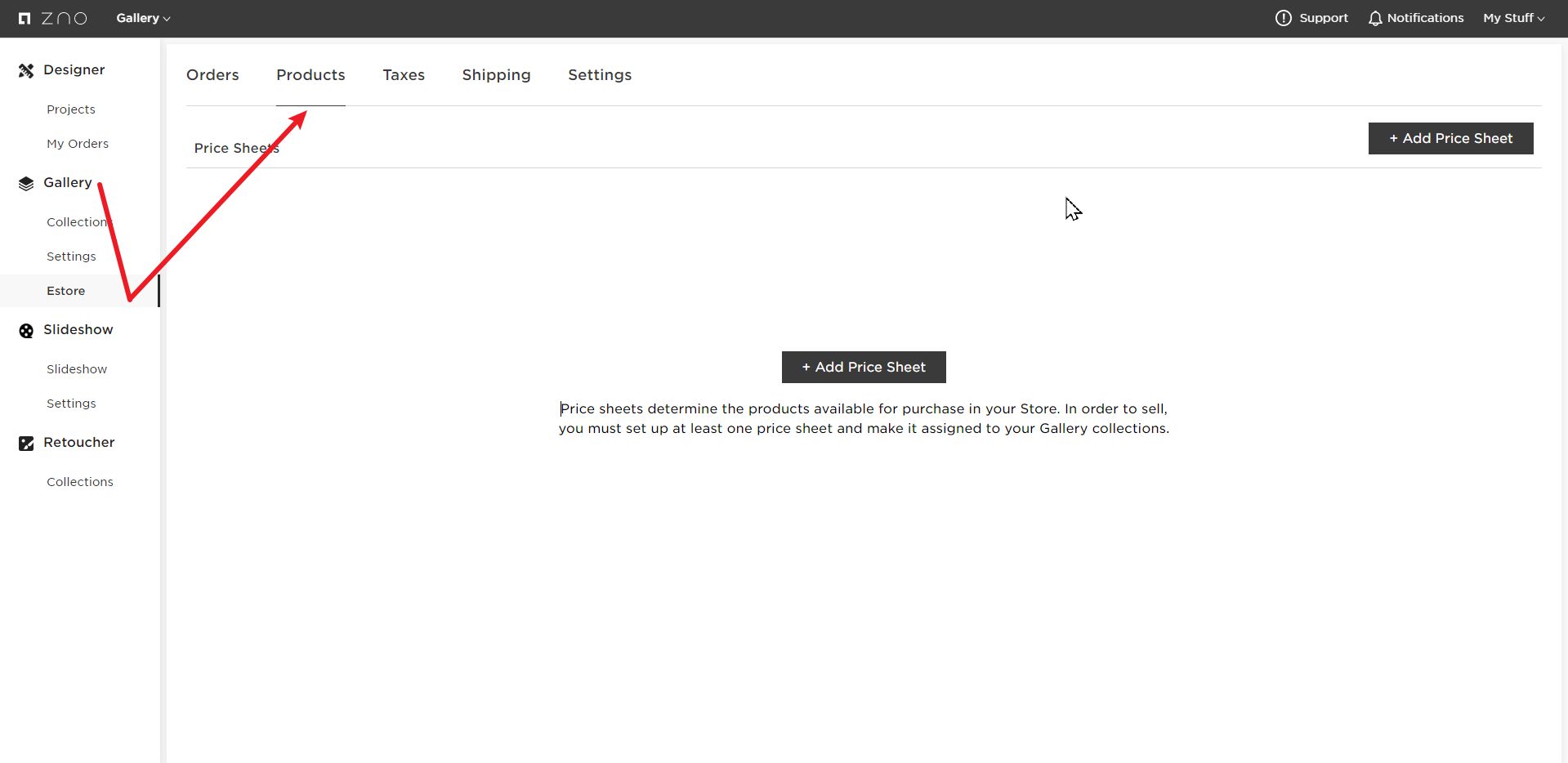 Step 2: Click "Add Price Sheet" and fill out the required fields.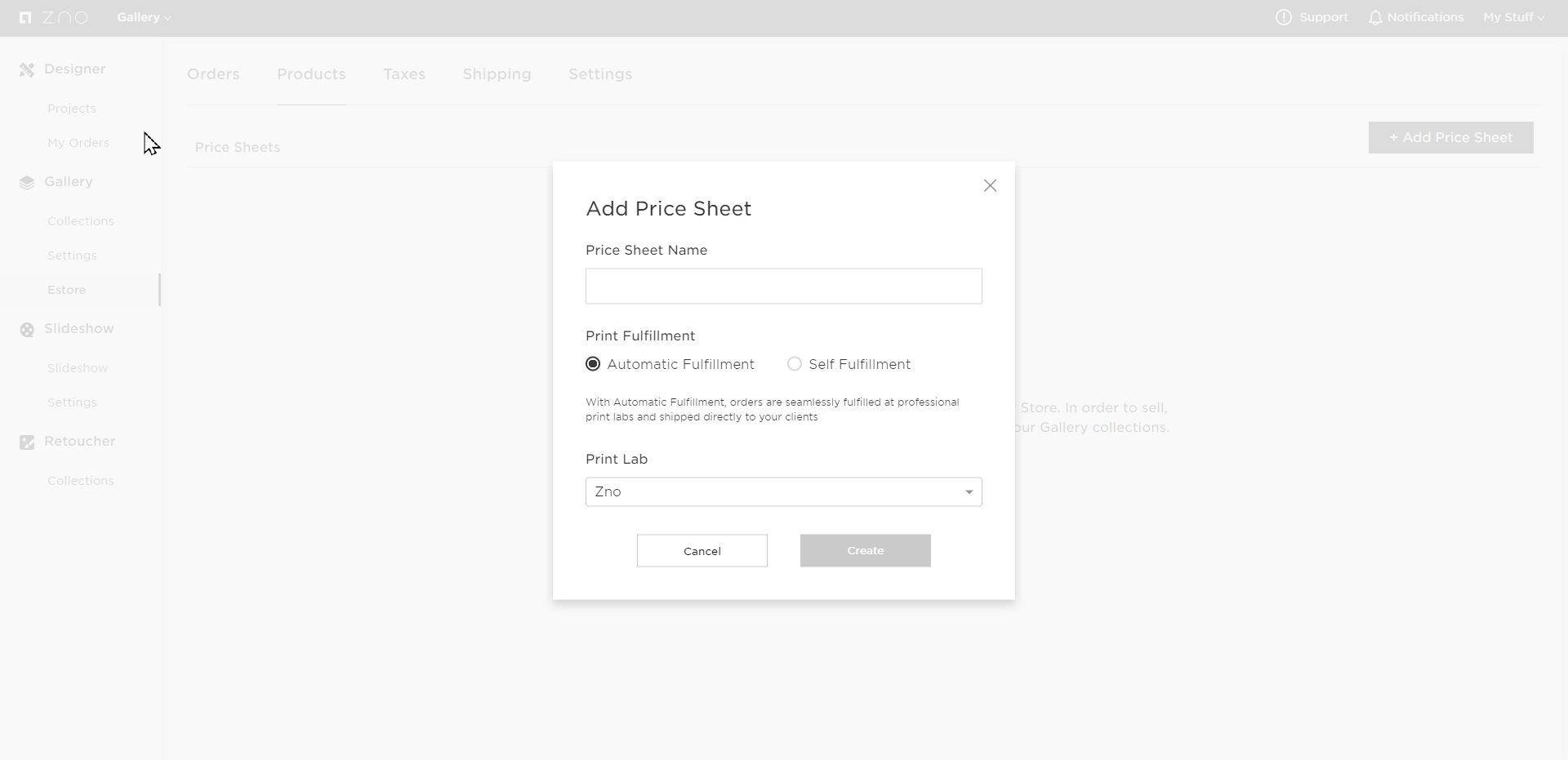 Price Sheet Name: Give the price sheet a name so that you can identify it.
Print Fulfillment: Decide whether you want your print products to be fulfilled automatically or manually. Orders placed through automatic price sheets get seamlessly transferred to Zno Lab, or any other lab partner, where they are printed, packaged and shipped. Orders through self fulfillment price sheets require you to manually fulfill orders for third party labs with exported finished designs.
Print Lab: For Automatic Fulfillment, we only have Zno Lab. For Self Fulfillment, we are continually adding leading third party labs, such as WHCC, Millers and more!
Managing and Pricing Products
Lets take a look at Zno's Automatic Fulfillment Price Sheet as an example.
Step 1: Manage what you want to sell.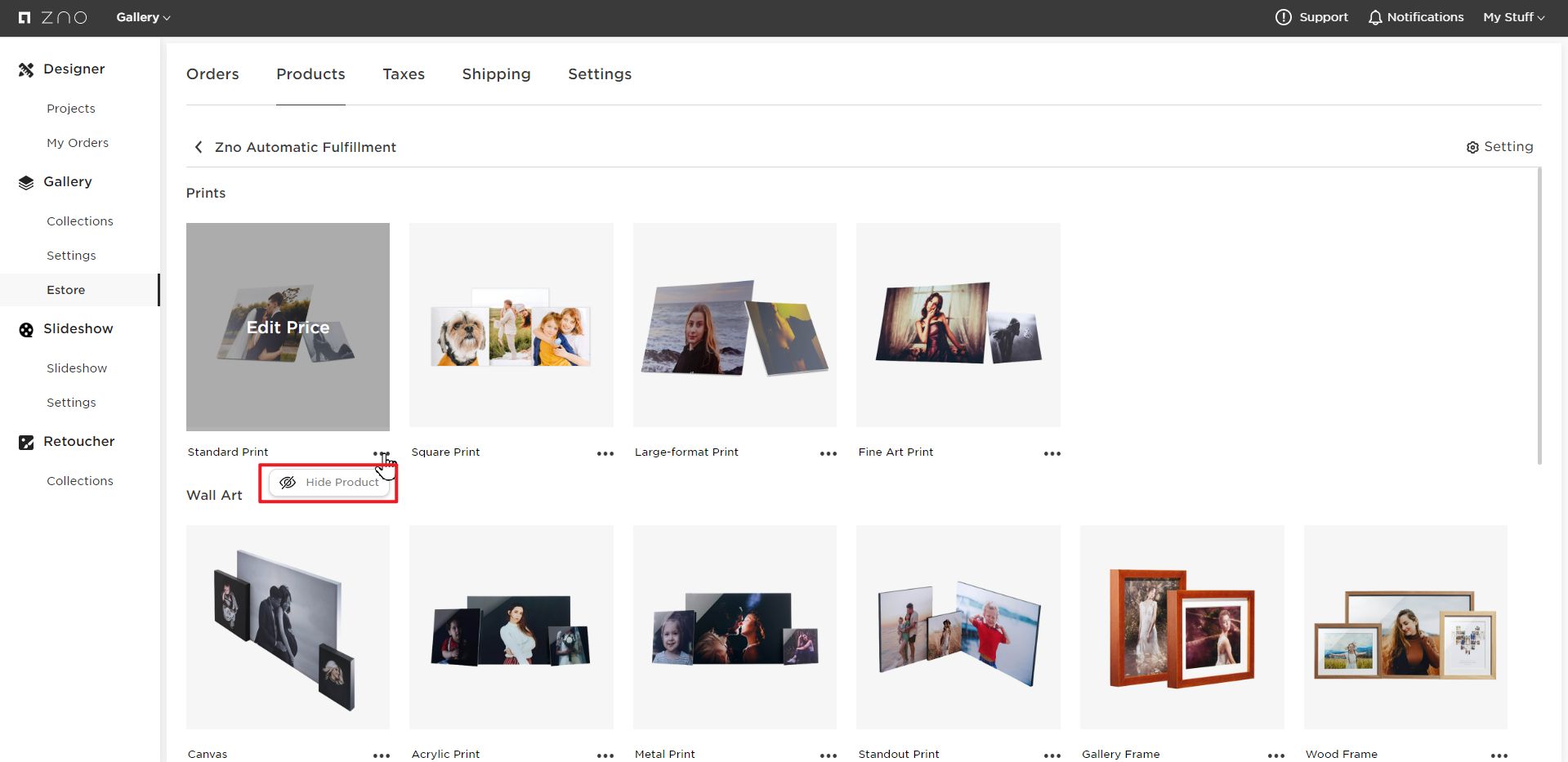 Once you have created a price sheet, the system will preset some popular products for you. If there are products you don't want to sell, you can make them unavailable through "Hide Product" so that your clients will never see them in your store. Then you can click "Edit Price" on every product you want to sell to move on to next step.
Step 2: Review the pre-populated products and adjust if needed
Let's take "Lay Flat Album" as an example.
Lay Flat Album: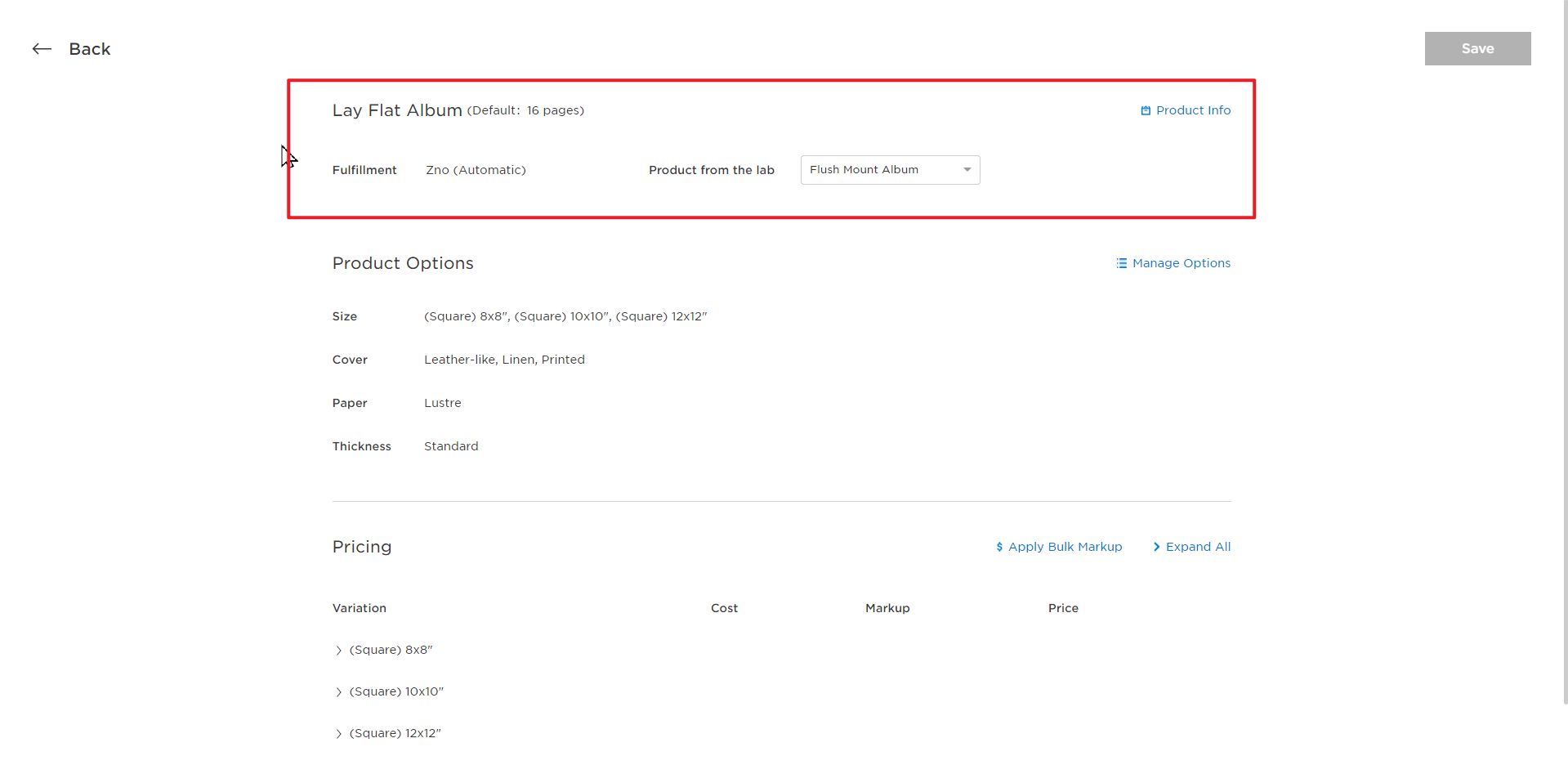 The term may cause confusion at first glance if you are a fan of Zno. Zno Lab has Layflat Photo Book, not Lay Flat Album. In fact, Zno Estore has its own naming system of more client-oriented terms. For example, instead of using "leatherette" to describe artificial material that looks and feels like leather, we use "leather-like" in Zno Estore.
To understand Lay Flat Album, you may take a look at "Product from the lab." The Lay Flat Album is the product name of your store, but it is actually fulfilled with "Flush Mount Album" from Zno Lab in this case. Your clients will never know this information. They only see "Lay Flat Album."
If you like another album from Zno to serve as "Lay Flat Album" in your store, you can change it from the dropdown.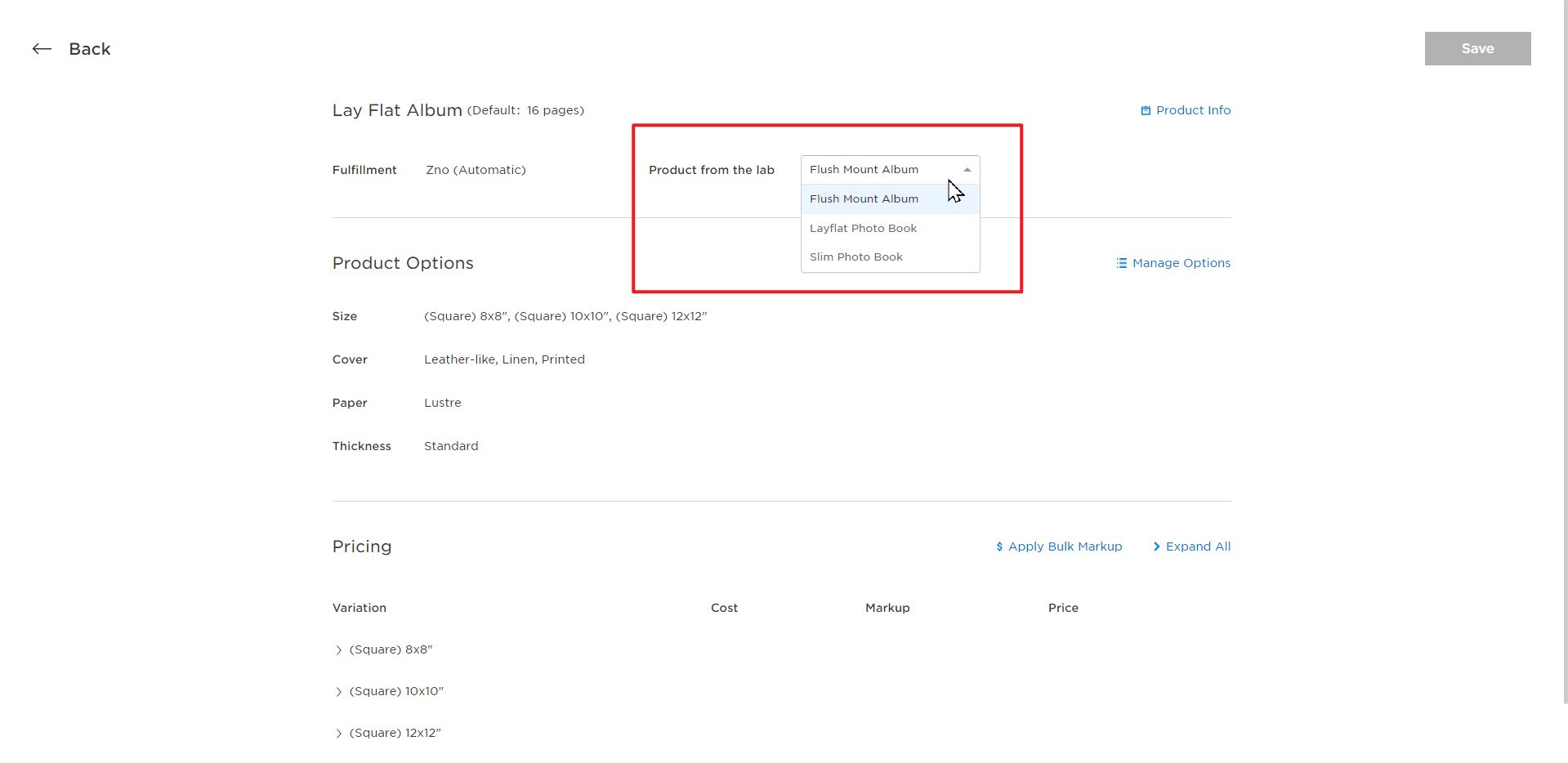 If you are unfamiliar with these products, click "Product Info" for further information.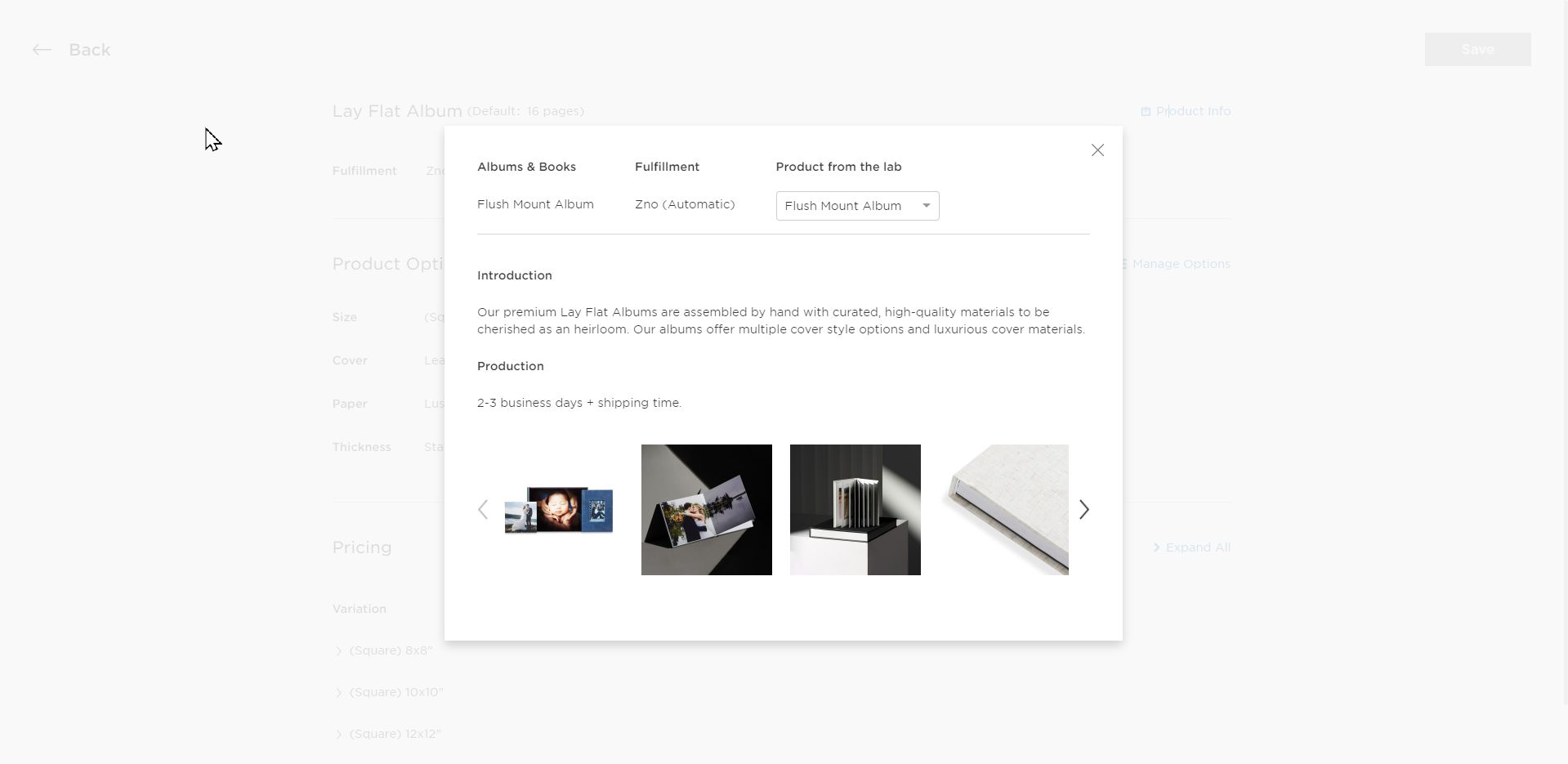 Product Options:
By "Manage Options," you can check or uncheck the product options to decide what you want to offer to your clients for each product.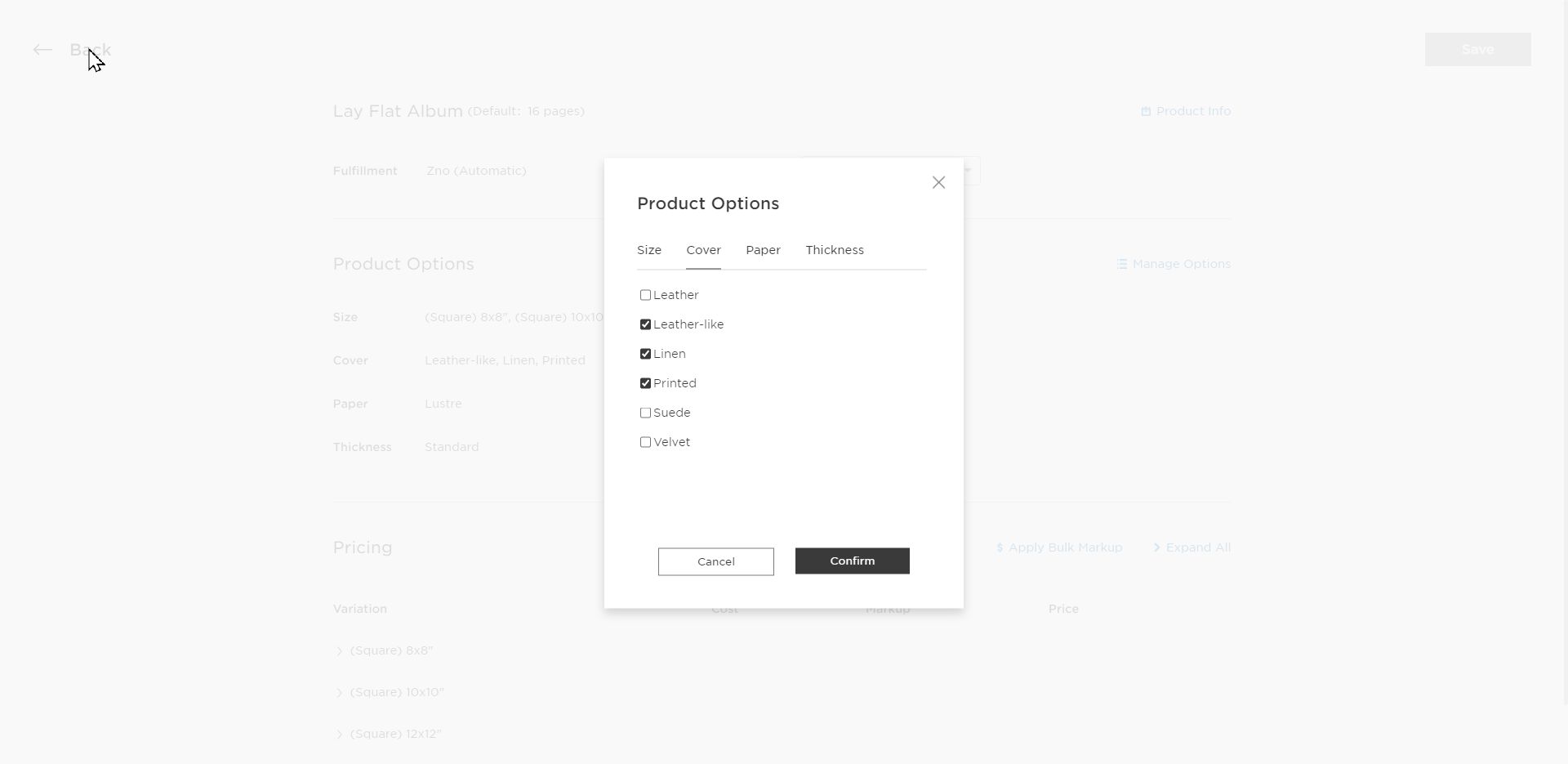 Pricing: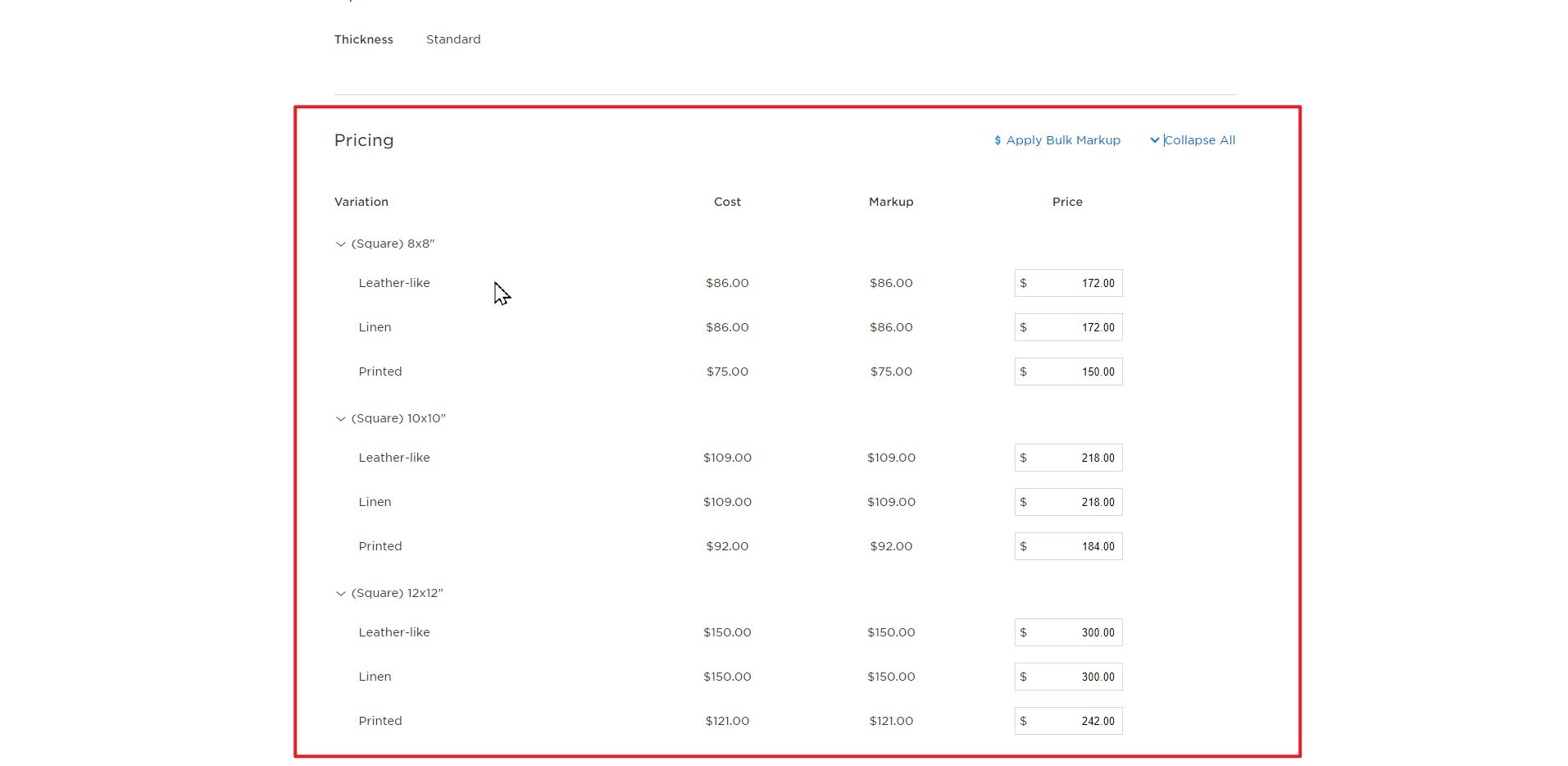 You can update all the prices for a specific product at a time using "Apply Bulk Markup." To understand "Apply Bulk Markup," see below: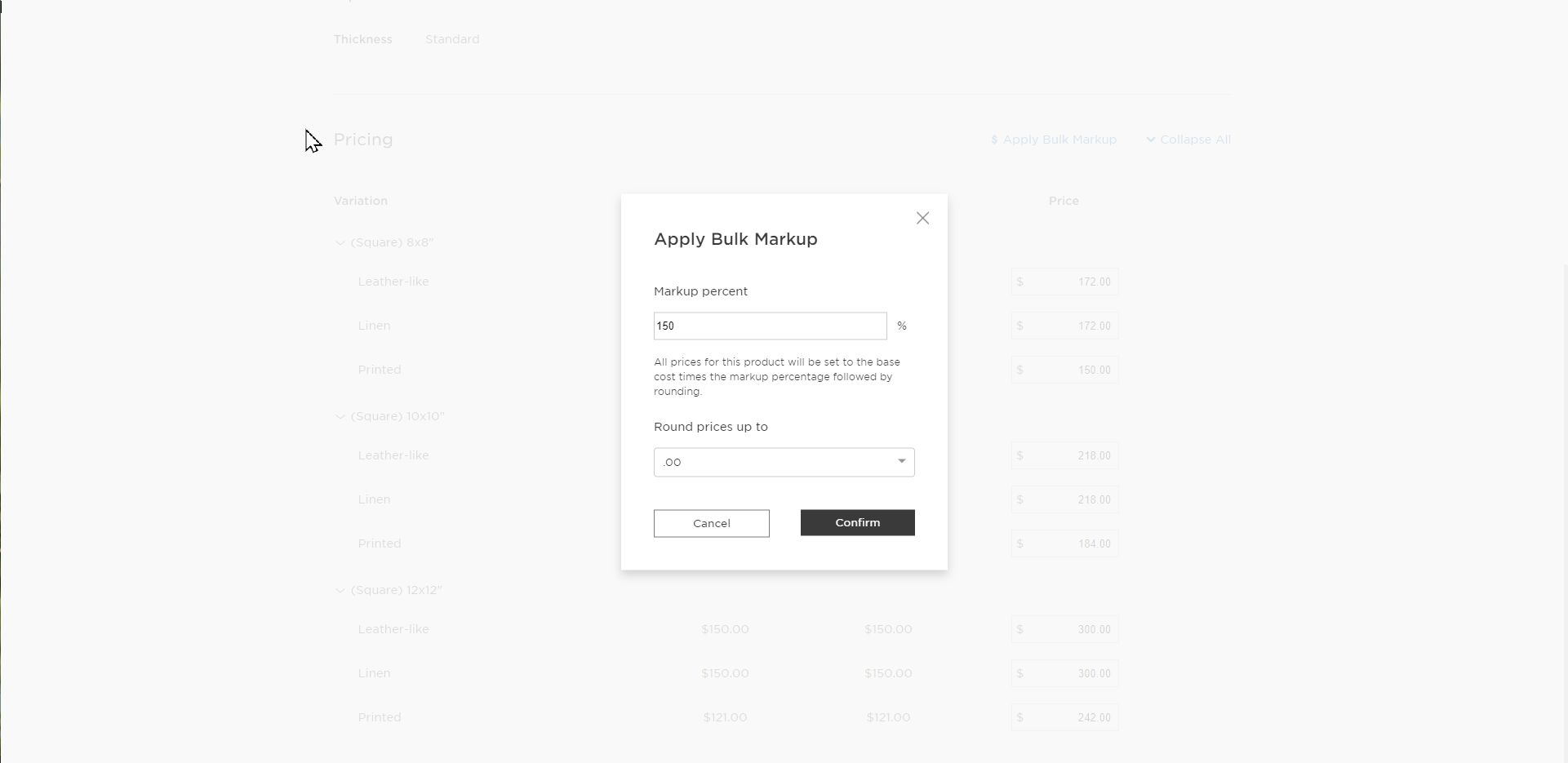 Markup Percent: Prices will be set to the base cost times the markup percentage, followed by rounding.
Round prices up to: You can choose to round the prices to .00, .99 or no rounding.
Also, you can manually update the prices for each product variation.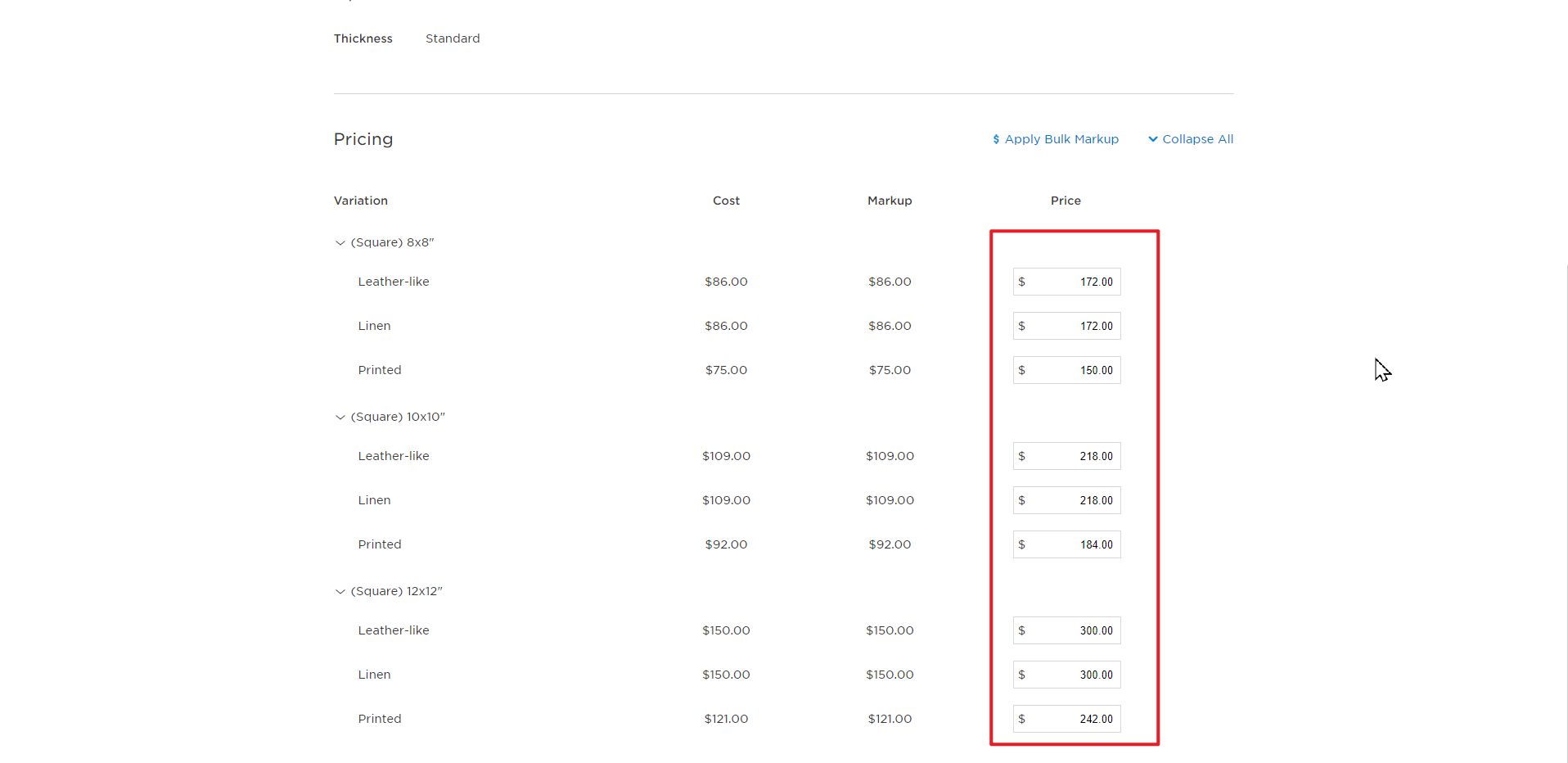 Assigning Price Sheets to Galleries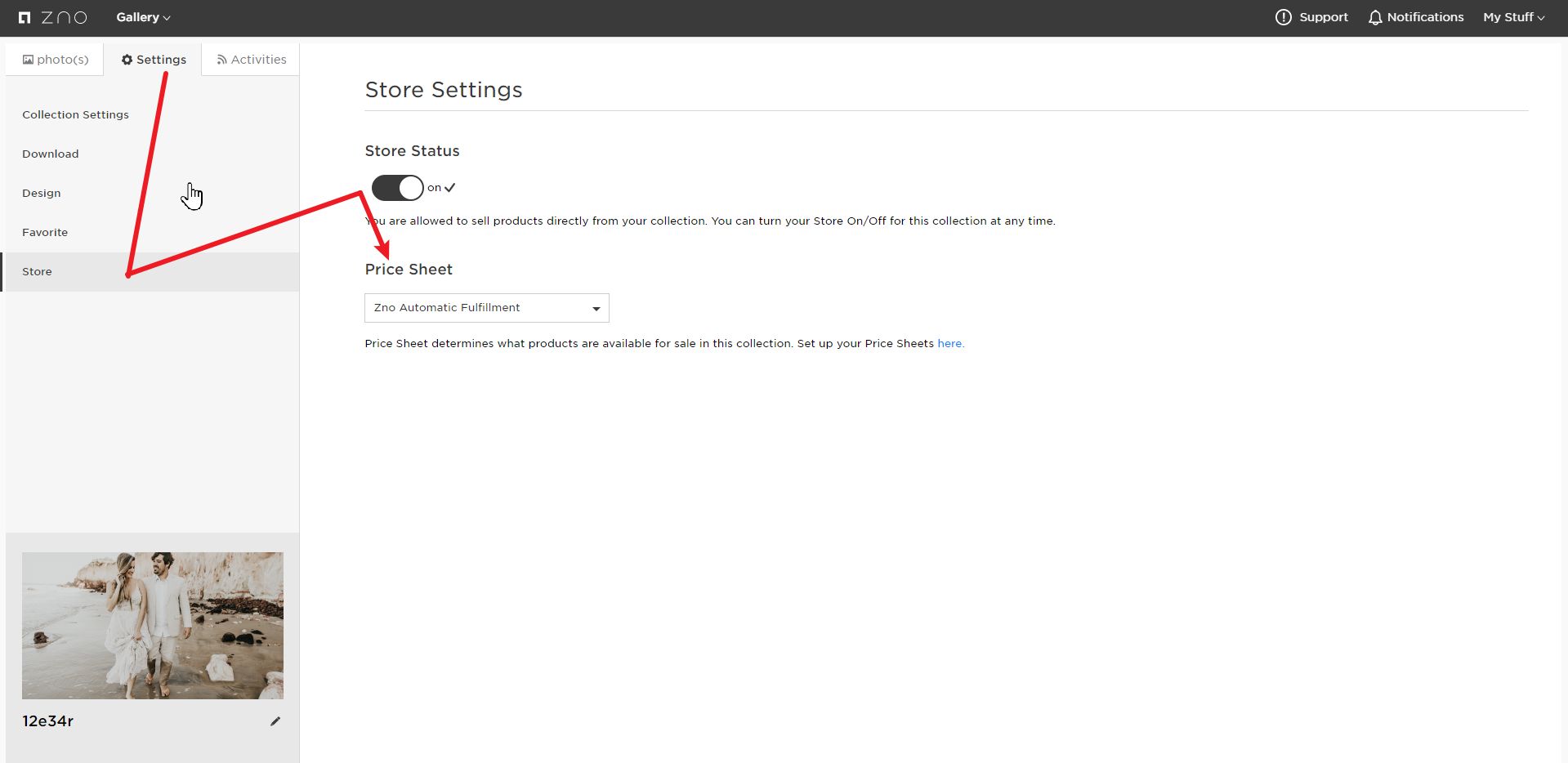 Before your clients can make a purchase from your store, you will need to assign your price sheet to a Client Gallery collection so that your clients can have access to your store through their galleries. Go to your Gallery collections, turn on the Store Status and have a Price Sheet assigned to it.
For more information, please email support@zno.com.