Setting up Payment in Zno Estore
On this page:
Why do I need to connect PayPal
How the payment with Zno Estore flows
How to connect PayPal
PayPal processing fee
Why do I need to connect PayPal
With Zno Estore, the photographer is the selling entity for the order and they are responsible for everything relating to sales tax and payments. Connecting your PayPal business account will enable PayPal Express Checkout for your clients, allowing them to pay with their PayPal account balance, various credit cards and debit cards. Your clients will be directed to a PayPal checkout page to complete their payment. Note that you must have a PayPal business account in order to use PayPal.
How the payment with Zno Estore flows
In Zno Estore, the cash-in and the cash-out are two separate ways for the photographer (store owner).
For the cash-in, we have partnered with PayPal to provide easy and safe payment transactions. The payments that you receive from your client orders in Zno Estore will immediately go into your PayPal Business account. We do not have access to view or refund these payments. The photographer is the sole decision-maker when it comes to refunding an order to the client and can process the refund using their PayPal account.
For the cash-out, which is the production and shipping cost of the order, there are two conditions. With Automatic Fulfillment (in this case, we now only have Zno Lab), it is charged to the photographer's credit card on file or your personal PayPal account when orders are transferred to Zno Lab. The process is the same as how you pay for normal orders with Zno Lab. With Self Fulfillment, using WHCC as an example, you need to self-fulfill exported designs with the third party lab. This means the cash-out is also like how you normally order from WHCC.
How to connect PayPal
Step 1: Go to Workspace/Gallery/Estore/Settings/Payment.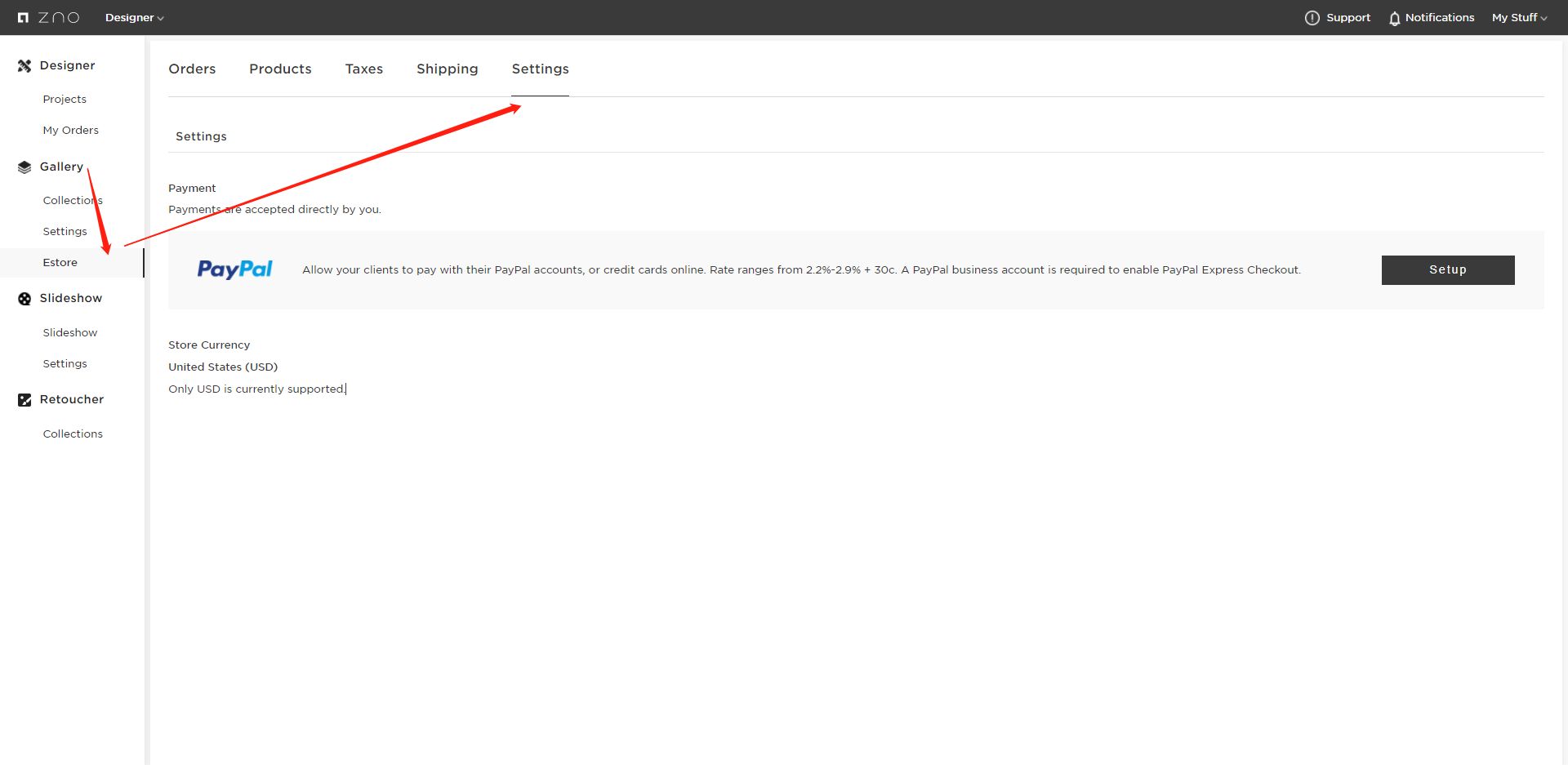 Step 2: Find PayPal and Click "Setup".
Step 3: Click "Retrieve my credentials" to log in to PayPal to required information.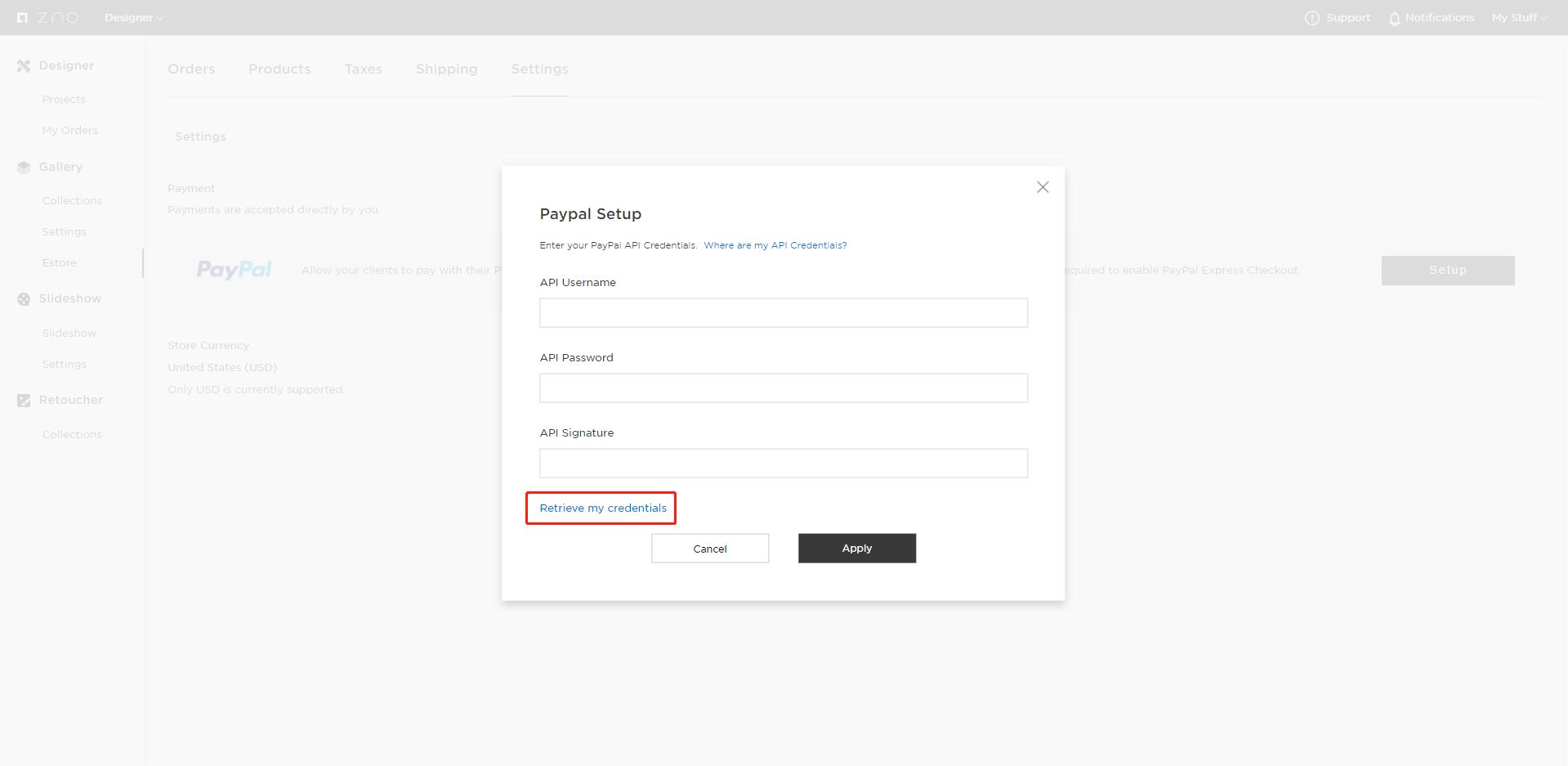 Step 4: Log in with your PayPal Business account or sign up if you don't have one.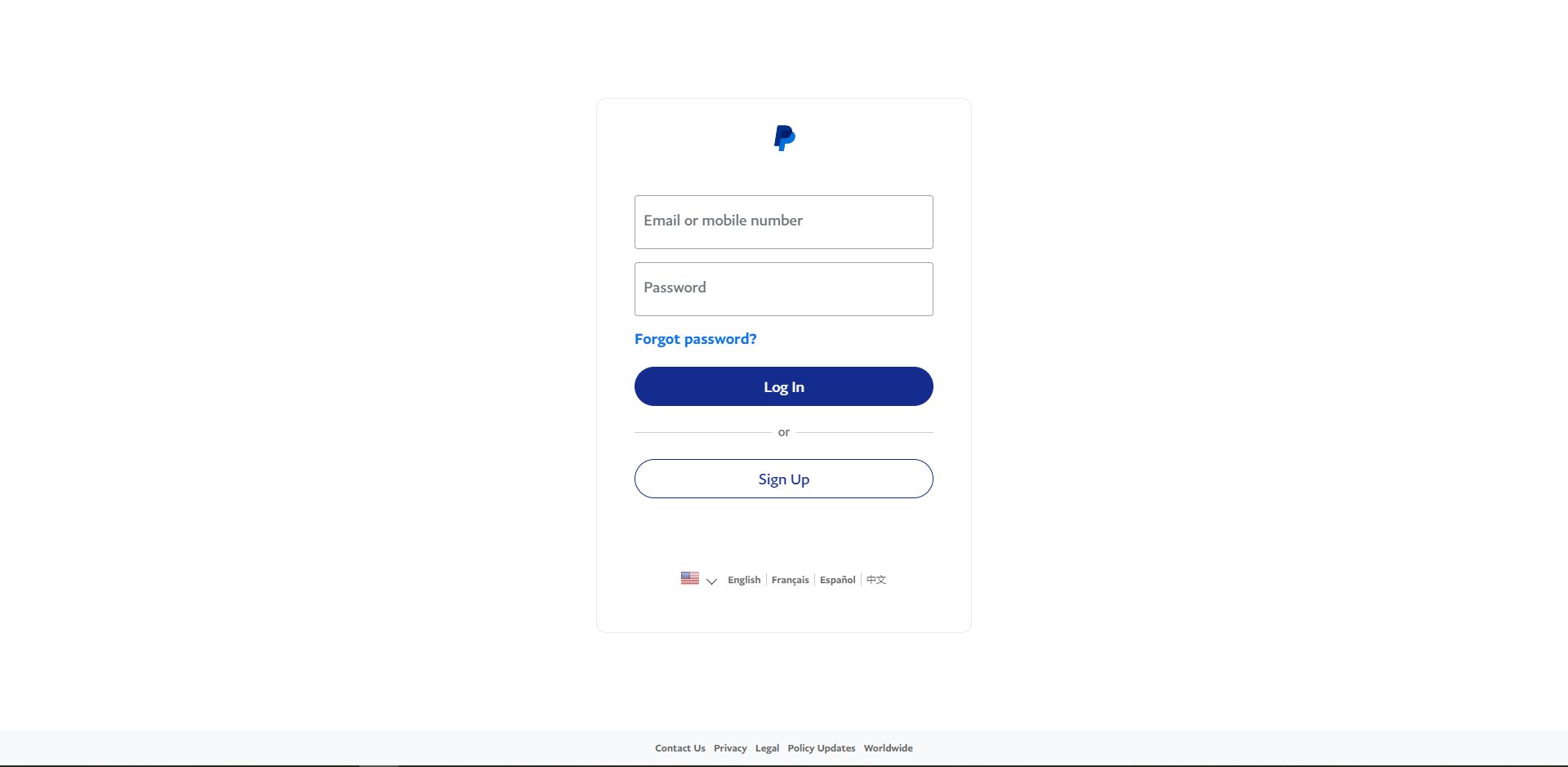 Step 5: You will be directed to the PayPal API Access page. If you are not automatically redirected, try pasting this url: https://www.paypal.com/businessmanage/credentials/apiAccess. Then find Custom checkout experience/NVP/SOAP API integration (Classic) /Manage API credentials.
Step 6: Choose to Request an API signature (not the API certificate).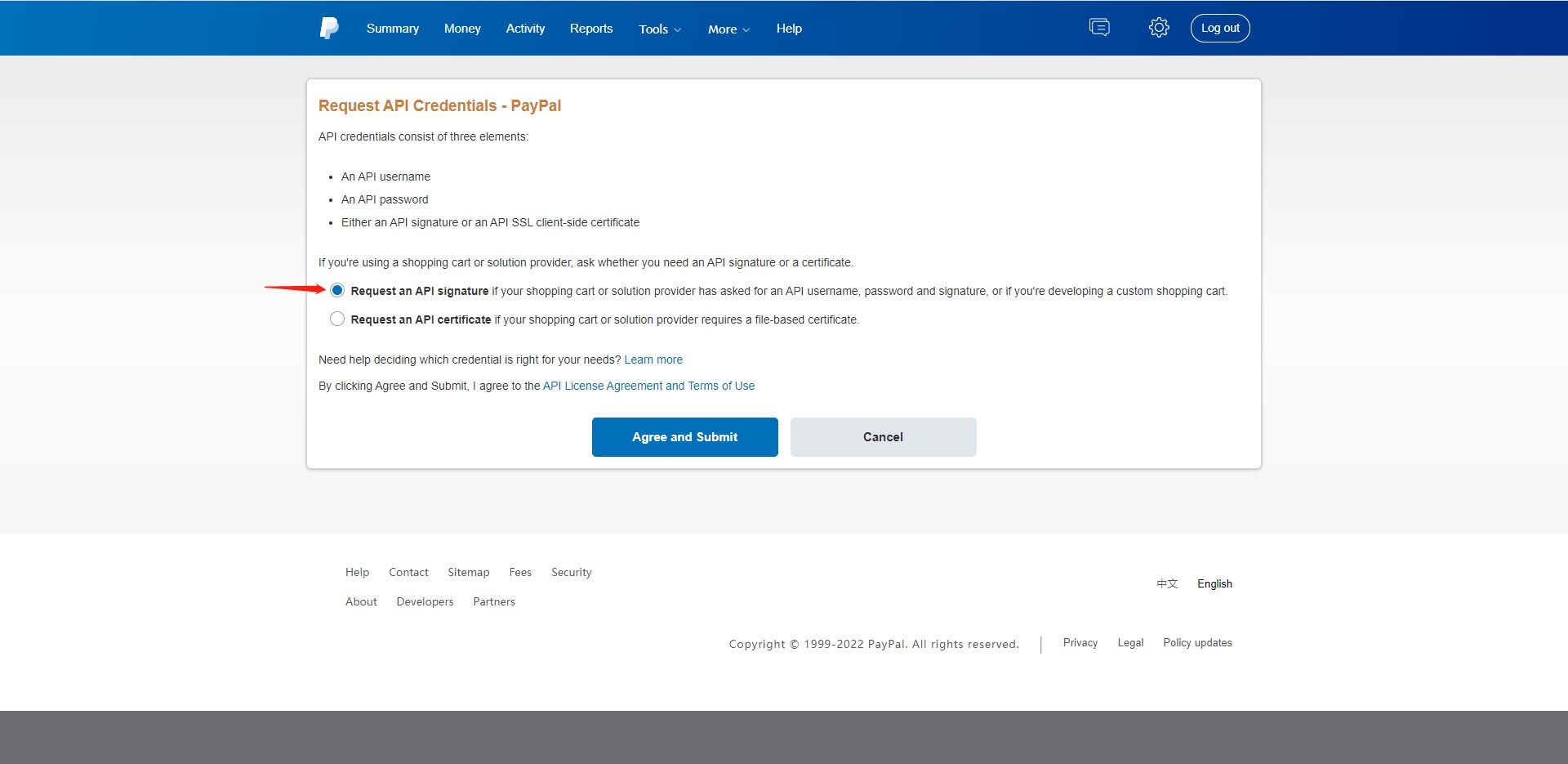 Step 7: Click on "Show" to copy the required fields.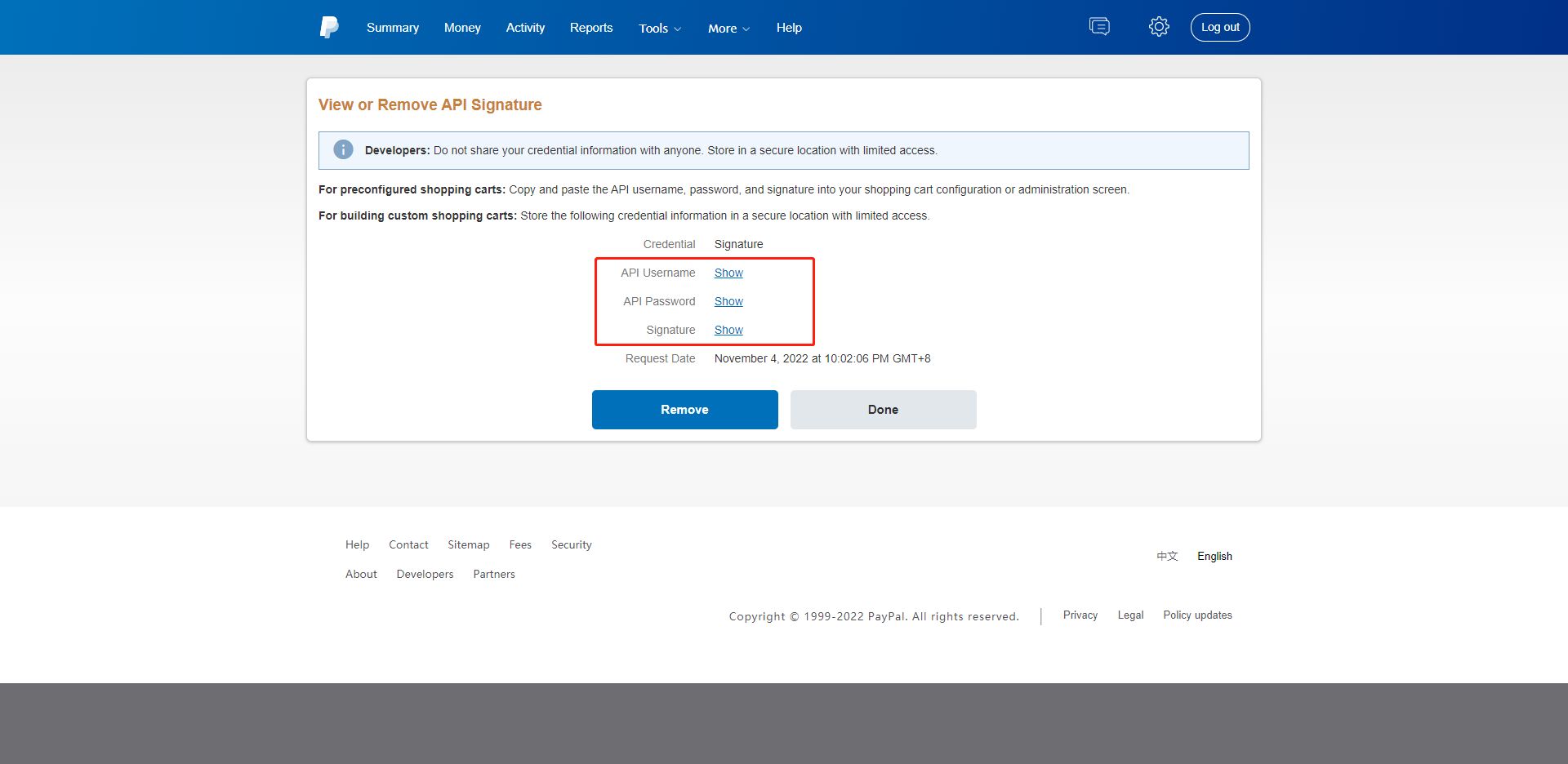 Step 8:Paste these to the appropriate fields on Zno Estore and start selling.
PayPal processing fee
Generally, PayPal charges a processing fee of 2.9% + $0.30 for each transaction. This rate may vary based on your country and the type of PayPal account you have.